FLA report that consumer finance new business was stable in January
New figures released today by the Finance & Leasing Association (FLA) show consumer finance new business in January was at a similar level to the same month in 2018.
Credit card and personal loan new business together fell in January by 3% compared with the same month in 2018, while retail store and online credit new business fell by 1%. Second charge mortgage new business increased 12% by value and 18% by volume over the same period.
Commenting on the figures, Geraldine Kilkelly, Head of Research and Chief Economist at the FLA, said:
"The consumer finance market has seen new business growth slow in recent months, reflecting consumer concerns about the economic outlook. Our latest research suggests that UK new consumer credit is likely to grow by 3.0% in 2019 as a whole, down from 5.8% in 2018."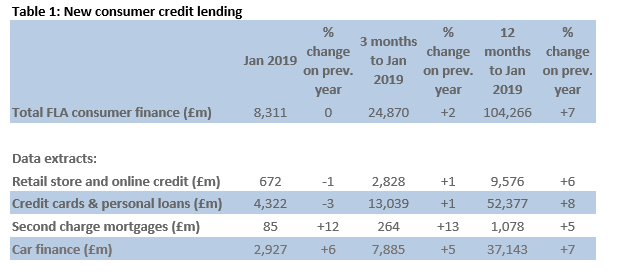 ---
---
Crackdown on high-interest lending announced by FCA
The rent-to-own sector faces a price cap similar to limits on payday loans, but the financial regulator will not rush to impose the same restrictions on overdrafts. The Financial Conduct Authority (FCA) has spent nearly two years studying borrowing at high interest rates.
Number of UK workers turning to high-cost short term loans continues to rise
The number of UK workers turning to high-cost short term loans (payday loans) as they struggle to cover their living costs and make ends meet continues to rise. Using data collected from over 700,000 payday loans requested between January 2017 and December 2018, credit broker CashLady has gathered together an in-depth analysis of the average borrower.
Welcom Digital Limited
The Exchange
Station Parade
Harrogate
HG1 1TS
T 0845 4565859
F 0845 4565253
Office hours
9am to 5.30pm Mon to Fri